Stop arguing!
Don't fight!
How often have we heard these words. Or have expressed these warnings to others. We were educated in this manner, and it is most likely, that we forward what we learned in early childhood. We transmit the deep believe, that quarrelling and fighting in conflict situations is bad. But:
We all know, that at times everybody is quarrelling, arguing, fighting …
All humans are quarrelling in conflict situations, but such behaviour is frowned upon. We feel bad about doing so, hence we are not really successful at it. Our conflict behaviour tends to lead into painful injuries – on mind and body. The conclusion is, that we must learn certain methods and rules. We have to practice fighting without risk of injury. We believe, that the basic knowhow of constructive fighting should be part of any regular syllabus.
konfliktkultur
richtig streiten.
Projects
Konfliktkultur designs projects, organizes seminars, participates in international conferences and publishes about the work done. We promote workshops about constructive handling of conflicts as basic competences for democratic citizenship.
DENKEN. KUNST. FRIEDEN. Annäherung an das Menschsein.
People can use their thinking to shape the world; art opens up new perspectives. Both are possibly the paths to peace – to a peace that is more than the absence of war, that knows how to transform contradictions as an energetic field into insights, that knows how to hold the tension between differences.
How can we think peace? What competencies can support the process of developing peace? What role can art play in this process?
This book offers different positions on the relationship between thinking, art and peace. It invites reciprocal dialogues, does not offer unambiguous answers, and does not fulfill desires for certainties and clear definitions. Here thoughts have their say.
The book presentation with musical accompaniment by Berg und Tal was opened by Gerald Bast. An introduction by Susanne Jalka was followed by discussions and a roundtable with Daniela Hammer-Tugendhat, Bettina Balàka, Georg Haman, Elisabeth Hewson, Konrad Rennert. With a dance performance by Oluwa naa.
Published by Edition Angewandte, De Gruyter.
ISBN 978-3-11-058989-4
Streitkraft – Power of confrontation
confrontational power is the power of change.
constructive conflict culture is indispensable when it comes to the development of democracies.
if you want to learn to argue, you should see conflict as an opportunity to gain knowledge, because everything that arises is the result of difference. this energy can be used as the power of argument. sensitivity, rules of communication, escalation and de-escalation form the small 1×1 of conflict intelligence. constructive conflict culture means using the power of argument in a targeted way for negotiations.
in 11 videos Susanne Jalka explains how you too can learn to argue properly!
Discover Peace – Peace Trails in Europe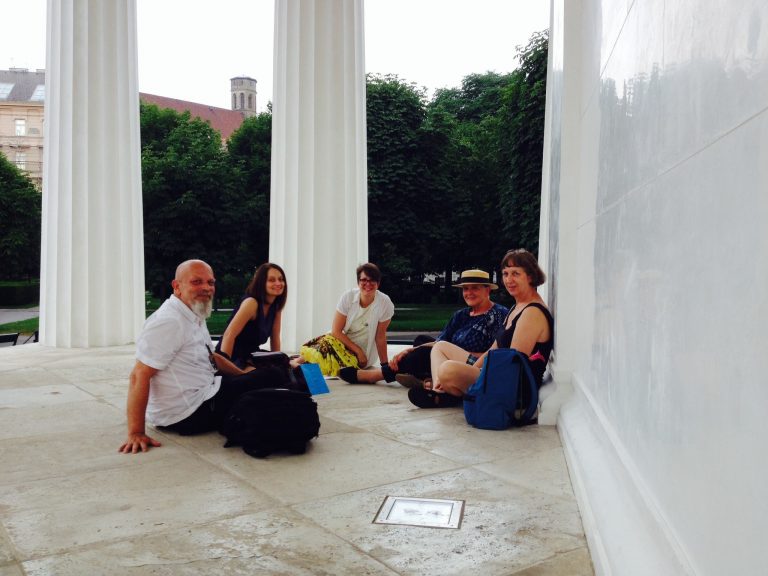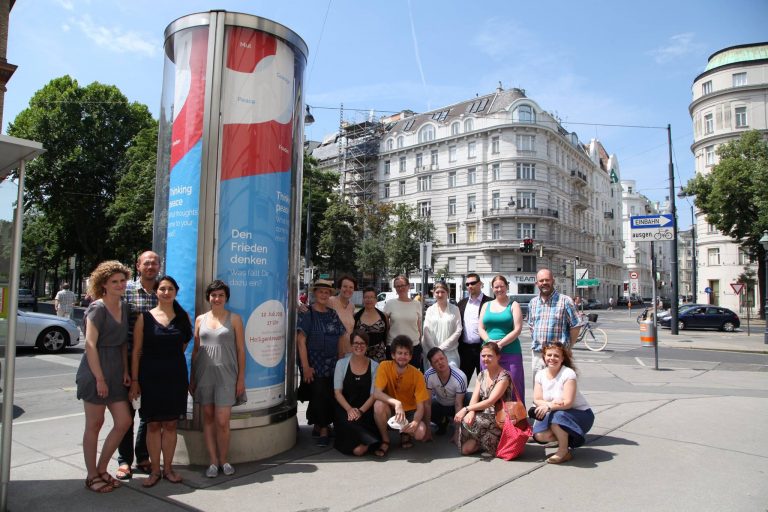 This project started in October 2012,  aiming to produce 'Peace Trails' in seven European cities: Berlin, Budapest, Manchester, Paris, The Hague, Torino and Vienna. Peace Trails lead to addresses where people have lived and worked or are still activ in some kind of engagement for peace.
We want to draw awareness to peace matters in historical and contemporary activities.
Since the 19th century peace movements have emerged throughout Europe. Ever since then peace activities are taking place, but there is little knowledge about this in public. Numerous monuments display publicly 'heroes of wars'. But peace is hardly ever a subject for memorials.
In democracies peace depends on the people.
We, the people, are the peacemakers. If we engage for peace, it will happen. This project will emphasise the importance of personal commitments for activities for peace as the civil society, pacifism, human rights, gender, ecology and other themes for peace making. Participation is the core challenge in democracies. And peace education promotes the necessary shift in language, thinking and acting from a mostly not conscious hierarchical or militaristic violence structured tradition to nonviolent attitudes.
For three years this project put in action public reminders on peacemakers and carried out peace trail activities and events in all partner cities, especially in summer 2014 to counterbalance the abundance of 1914 First World War mementos. Peace trails should in future become an important part of a peace culture. Hence this project has complementarity with other culture policies. We are still far away from a real peaceful humanity. But the growing influence of peace education and the development of methods for constructive conflict handling establish changes in mental attitudes towards ideas of peace. We talk of peace not as the absence of war but as non-violent ways of dealing with conflicts, since they are inevitable to life. 'Discover Peace in Europe' aims to be one of the cornerstones for this development.
See the project website here: www.discoverpeace.eu
wish-trees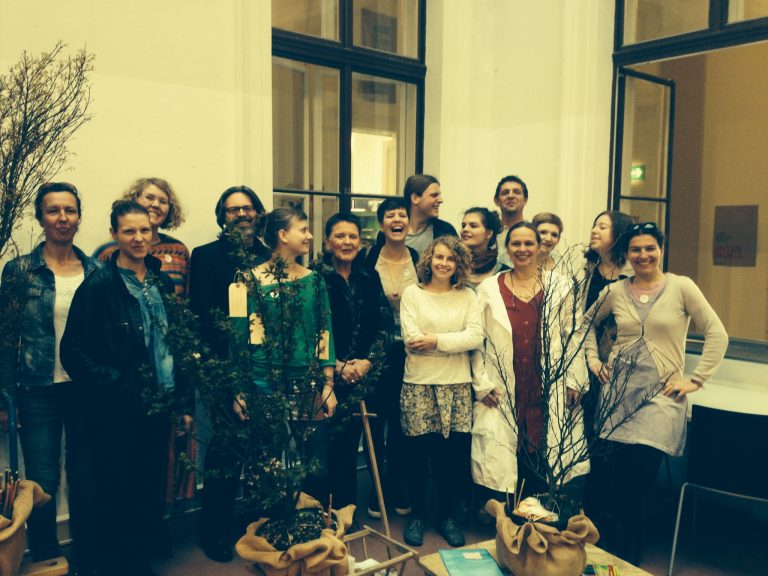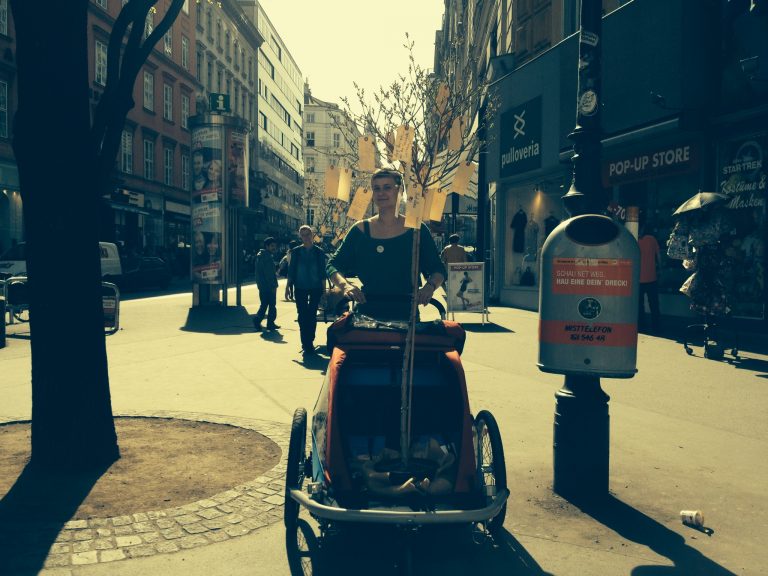 Along developing the peace trails for "Discover Peace in Europe", many peace actions were initiated. One of them was the "wish-tree" event in many participating cities.
The event was created on the occasion of the commemorative year 2014 one hundred years after the beginning of the First World War under the honorary patronage of the Federal President Fischer. In addition, the artistic patronage was assumed by Yoko Ono, who, as Rector Gerald Bast emphasized, is an artist who understands art as a means to change the world.
Students from the Institute for Art Education at the Angewandte Wien walked with handcarts containing young trees to 11 stations in downtown Vienna and asked passers-by for their peace wishes. These were written on cards and hung on the trees.
The aim of the project is to raise public awareness and attention to the issue of peace.
Peace Matters
'Peace Matters' is a project which aims to combine different fields of peace activities. Peace is not a condition of life that develops or disappears by itself. Peace is not the result of a decision by the leaders of society.
Peace is the result of our ways of dealing with each other, dealing with ourselves, realising our needs and ideas.
Peace depends on how we act in our conflicts, how we care for our planet, how we handle technologies, how we use our freedom, how we take responsibilities and so on. Understanding all these different meanings of peace and doing our individual share in developing peace will give us peace. For this reason we at Konfliktkultur  initiate, organise and support different creative informative projects, workshops, events, discussions and campaigns about active peace. And we invite participation through ideas, proposals and activities.
Peace Matters offers several possibilities to join in.
We want to develop with 'Peace Matters' the preparation of several different activities, which could act as an important point of view to the abundance of violence & war elements in our societies.
Fehdehandschuh: Museums as productive places for conflict culture
"Museums are productive places for conflict culture"
was our initial idea in the project 'Pass me your gauntlet'. Konfliktkultur organized a project at the Museum Moderner Kunst in the Museumsquartier as a 'Dialogue of Generations' – referring to constructive conflict culture.
Very old people discussed modern art with very young people. It was first about fundamental considerations whether constructive arguing about opposing points of view is desirable – or whether arguing is better avoided as far as possible …
Subsequently, what had previously been discussed generally and theoretically was practiced on the basis of works of art, namely: How do we react to modern art? How do we express criticism?
The event was accompanied by an experienced art mediator from the museum. Finally, all participants reflected on their experiences and came to the conclusion that modern art is excellently suited to offer practice fields for constructive argumentation.
Imagine Peace
'Imagine Peace' was an international network project from 2003 till 2006 in remembrance on Bertha von Suttner, and her being the first female Nobel-Peace-Price laureate in the year 1915. The objective of our project was to bring about new images of peace in distinction to the general negative-definition of peace as the absence of war.
We presented the results of this project and a discussion on the idea of conflicts as the potentialities for personal growth in the festive hall of the Vienna Town Hall. Children and young people from 11 European countries participated producing creative work about their visions of peace like paintings, music, dances and poetry, hence demonstrating peace as the result of dealing with tensions and conflict-experiences of all kind in an active and constructive way.
P.A.K.T
The aim of the P.A.K.T. project was to improve conflict-intelligence, to stimulate curiosity, creativity and decision-making abilities.
In the course of the project, conflict education modules should be used to make young people aware of how conflicts can be handled constructively and to support the implementation of non-violent conflict coping in Austrian schools.
Also to prove that arguing can be fun if the point is not to win but to turn the conflict into a win-win-situation for everybody involved.
The P.A.K.T. pilot project offered information material and networking to schools and pupils in preparation of visiting the Peace Museum in the province of Burgenland. "Krieg oder Frieden" ("War or Peace"), which takes place at Schlaining Castle. Conflict education modules in the BUNTPACK package were offered to interested schools.
The P.A.K.T. pilot project was distributed to 40.000 pupils aged 6 to 18 in all types of schools throughout the province of Burgenland and beyond, it was also made available in all other schools nation-wide on request. In a relevant circular, the school authorities of the Burgenland recommended to all schools in the province to carry out the P.A.K.T. project.
Veto Online
The object of the project veto-online was to develop e-learning-modules for constructive conflict behaviour. During 2003 and 2006 we worked with students (age 16 to 22) of five European countries in developing playful creative electronic learning modules – hence strengthening their own intercultural democratic conflict culture.
The modules contained examples of conflict situations. Questions and suggestions led to various stages of the conflict´s development using images (illustrations, comics, photos) and music.
By answering to multiple choice questions at specific conflict turning points and through practical explanations the users experienced step by step whether the appropriate rules of constructive communication were being utilized. The narratives were supposed to lead users through mazes with handicaps and wrong ways. Finding their way and following directions of basic information about escalation and decision making the users gained know-how and in the end built consensus.
One main principle of this project was to learn theoretically and, simultaneously, practice these techniques. The participating students observed and also learned to understand better their own conflict behaviour.
Konfliktkultur
konfliktkultur – association for the scientific research and social political improvement of handling of conflicts.
konfliktkultur communicates rules for constructive agreements and for clearness in conflict situations. The charitable association was founded in 1998 – and exists by voluntary engagement of its members. The association is a member of the Austria Network of Peace and Non-violence.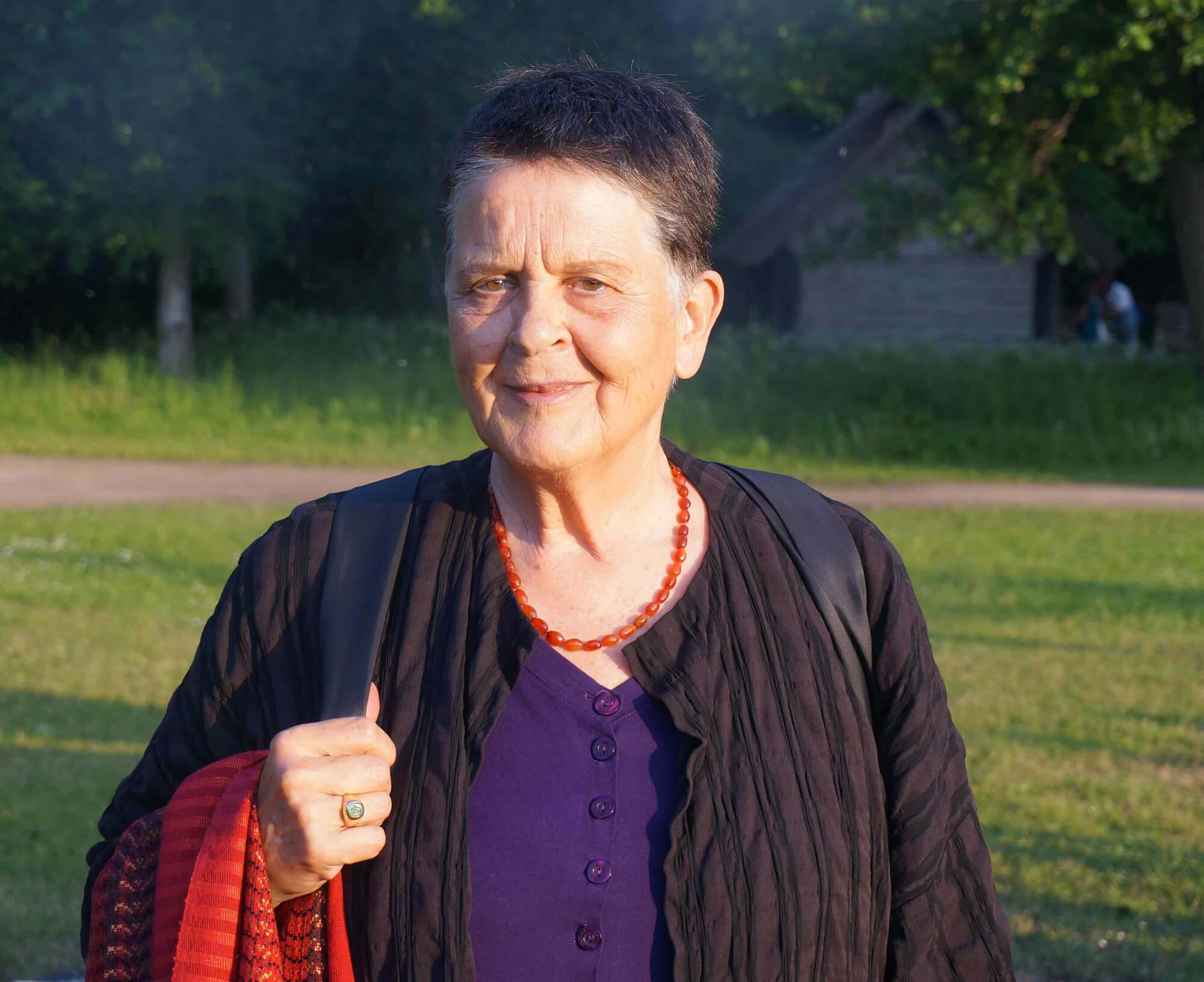 Since my childhood I grew up with impressions about Psychoanalysis and art. These themes and the search for a peaceful society in democratic political structures were the family's influences on me and have ever been so in all experiences of my life. I lived in many different countries, was stimulated by coming to know diverse cultures and by successfully completing interesting academic studies.
Through training in Psychology, Psychoanalysis, Religionscience and Sexology and from experiences in psychotherapeutic practice and in several teaching settings I understood, that there is a general need in our education system for trainings in social competences. Hence I have been developing and organizing materials, projects, seminars and workshops to relevant topics like constructive handling of conflicts, self-reflexion, self-presentation etc. I publish texts and materials to these topics and engage in peace matters as a peace lobbyist.
Since my return to Vienna I offer seminars on the above-mentioned topics for students at the University of Applied Arts, at the University of Economics and Business, at the University of Music and Performing Arts and other institutions.
"Die Stärkung von Demokratien in Europa und im globalen Kontext geht Hand in Hand mit der Entwicklung einer konstruktiven Streitkultur. Demokratische Staatsformen brauchen Bürger, die über Entscheidungsfähigkeit, Kooperationsbereitschaft, Selbstverantwortung und Frustrationstoleranz verfügen – also konstruktives Konfliktverhalten."
Contact
Konfliktkultur e.V.
Breitenfeldergasse 2/14, 1080 Wien
+43 699 19 44 13 13
Referent: Dr. Susanne Jalka
Chair woman: Dora Kuthy
BIC: BAWAATWW
IBAN: AT63 1400 0100 1067 3637
ZVR-Zahl: 174027964
Datenschutzrichtlinien
konfliktkultur
richtig streiten.